Information for Yardley Apartment Renters
The tiny community of Yardley offers excellent views of the Delaware River as well as other luxury amenities. In its early years the town was an important connection point to eastern New Jersey, served by a ferry that ran along the Delaware River. The town's fascinating history also includes serving as a stop on the Underground Railroad for slaves escaping from the South. Yardley is a primarily residential area, with some spectacular architecture. Convenient to Trenton, New Jersey and Bristol, Pennsylvania, traffic is usually light on the roads to and from Yardley. At just under a square mile, homes here are highly prized—but don't worry, we can help you rent an apartment here.
We have great Yardley apartment rental listings. There are units available to suit any budget, from studios and one-bedroom apartments all the way up to three-bedroom apartments and more. Units in the adjoining communities of Falls Ferry and Newtown are also available. Check out our Yardley apartments for rent today!
Featured Yardley PA Apartment Rentals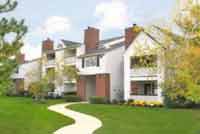 Polo Run is a beautiful garden property situated on 34 acres of rich landscaping located in historic Bucks County, Pennsylvania. These spacious apartment homes in Yardley feature private entrances and balconies, washers and dryers in the apartments, textured walls, large pantry, breakfast bar, new stainless steel appliances including refrigerator with ice maker, built-in microwave and electric ranges. Enjoy the convenience of the 24-hour fitness center, swimming pool, tennis court, playground, dog park, jogging trails and pond with a fountain and gazebo. Polo Run is just minutes from Route 1 and I-95, offering an easy commute to anyone working in Philadelphia, Princeton or New York. The local school district, Pennsbury, is rated in the Top 10. We also offer short term leases and corporate housing.

Rose Hollow is a distinctive condominium community with rental apartments designed for those discriminating few who demand the utmost in luxury, privacy and quality in their residence. This is a community for active, contemporary people who appreciate the beauty of a country setting. Spacious two bedroom rental condominiums feature a large living room with a wood-burning fireplace as well as either a secluded patio garden or private sundeck. Each apartment has dedicated parking spaces, some have private garages. In addition, Rose Hollow features a swimming pool and tennis courts exclusively for your enjoyment. Life is easy at Rose Hollow because Toll Apartment Group planned it that way.
More about Yardley, PA
Being so small, Yardley is easy to get around. Visitors and residents will find it a convenient base from which to explore the immediate area. The surrounding villages, towns and communities in Bucks County offer a wealth of amenities, facilities and attractions. The historical and cultural oasis of Philadelphia is also close by—so if you're commuting to work or study there, consider settling down in Yardley.
If you want to live here, there are a number of Yardley apartments for rent in the area. They offer affordable accommodation to suit a range of needs. The cost of Yardley apartment rentals varies depending on their proximity to local amenities, transport links, and the size of the property.
Yardley might be small, but it puts you in easy reach of the Philadelphia area's world-class attractions. Check out affordable Yardley apartment rentals today.