Chinatown - Warehouse District Apartments
Information for Philadelphia's Chinatown Apartment Renters
Philadelphia's vibrant and exciting Chinatown is situated in the heart of Center City. It's the center of Chinese-American culture in the Delaware Valley and is home to several landmarks.
Chinatown is dominated by the Friendship Gate at 10th and Arch Street. This is a symbol of the friendship between Philadelphia and its sister, Tianjin, China. This area has plenty of history that will fascinate visitors and is a thriving, buzzing community where there is always something going on.
You'll naturally find Chinese shops and restaurants here, which adds to the areas buzzing atmosphere and authenticity. And because you're in the heart of downtown, there road and public transport links connect you to the entire Philadelphia area.
Consider Chinatown apartments for rent if you're looking for an exciting, cosmopolitan big city experience. Chinatown is packed with culture and character, and our Chinatown apartment rental listings give you the keys to this wonderful part of Philadelphia. Studios, one-bedrooms, three-bedrooms … our apartment rental listings suit every lifestyle and budget.
Check out our Chinatown apartment rentals today and discover the heart of China in downtown Philadelphia.
| | |
| --- | --- |
| Chinatown/Convention Center | |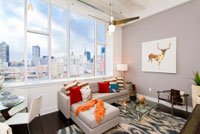 Located in exciting Center City Philadelphia, Goldtex is in the middle of it all. This former ladies shoe factory has been completely renovated into thoroughly modern, luxurious and eco-friendly loft apartments. Situated in the Loft District on 12th Street, Goldtex is 2 blocks from the epicenter of Center City Philadelphia and its restaurants, nightlife, cultural and sporting events. Goldtex is Philadelphia's first truly world-class apartment building. With its new exo-skeleton, 10-story living green wall, and state-of-the-art HVAC system, Goldtex uses less energy than any residential building in the city. From the vibrant façade to the stunning kitchens, Goldtex has re-set the bar for sophisticated design in the city. The huge windows offer incredible light and spectacular skyline views that cannot be found anywhere else. Goldtex's rooftop pool and glass-enclosed gym offer unparalleled amenities in a breathtaking setting. Located in the center of it all, with Post Brothers extraordinary management and 24-hour on-site service, Goldtex is exceptional value and exceptional living. Simply put, Goldtex is: Unrivaled.