Information for South Street Apartment Renters
Famous as the birthplace of Philadelphia's 1960s counterculture and world famous "Philadelphia sound" soul music, South Street is also a very popular place to live. The South Street neighborhood borders the Center City area, and is characterized by the stretch between Front and Seventh streets. Starting in the late 60s and early 70s, bars and clubs started to open on the street to help Philly's nascent music scene grow, and over the years it's become one of the hottest stretches in the city. Hipsters have been flocking here for ages, and while the area has become more commercialized, it hasn't lost its artistic charm. Some of the city's best boutiques are in South Street, as well as great restaurants. The famous Mummer's Museum draws crowds, and there are plenty of excellent food markets too.
If you want to be where the action is, check out our South Street apartments for rent. As the area develops, new condominiums as well as historical buildings have units available, many with luxury amenities. No matter what size of an apartment you're in the market for – studios, one-bedrooms, two-bedrooms or larger – there's something here to suit your budget. South Street is one of the most exciting and lively parts of the city, and every day here is a new adventure. Check out our South Street apartment rental listings today!
Featured South Street Apartment Rentals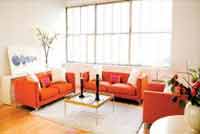 At the Marine Club, you'll find apartments and condominiums in Philadelphia, Pa, that are steps away from the excitement. The Marine Club Condominiums are convenient to downtown Philadelphia with easy access to public transportation. Within the Marine Club you may feel a world away from the city, on the Avenue of the Arts you are among the finest restaurants, theaters and shopping destinations that Philadelphia has to offer. Find yourself at the intersection of contemporary culture and old world markets. Stroll down Washington Avenue and lose yourself in the Italian Market, one of the oldest and largest outdoor markets in town. Our newly renovated Wine Cellar Condos are now ready for immediate move-in. With amazing ceramic tile throughout - perfect for dog-friendly condo finishes - exposed red brick throughout, stainless appliances, gorgeous granite counters, and all marble baths complete with Jacuzzi tubs. Based on the originally constructed section of the Marine Quarter Masters Residence, with a case of our favorite Pinot Noir in every unit!

Incomparable access plus breathtaking views of the Avenue of the Arts, multiplied by the wide-open spaces of your light-filled loft. Add green building and Dranoff details to one cutting-edge glass and brick exterior, and the answer is 777. Intelligent choices in living are never about chance. If you leave from 777 South Broad and walk to Center City for world class shopping, how long would it take? How long is the trip to the Italian Market for fresh bread? Or to a boutique on South Street for a one of a kind pair of shoes? Answer: 7 minutes to everywhere. (Other acceptable answers would be: one phone conversation or two songs on your iPod.) Merely 7 blocks from the heart of Center City and located on the main North-South transportation artery of Philadelphia, 777 is conveniently positioned in the city's Gateway to the Ave of Arts.