Apartments in Rittenhouse Square Philadelphia
Information About Rittenhouse Square
Besides our home page, the Rittenhouse Square page is the most visited on our site. Given its central location and vast array of neighborhood restaurants and resources, it's no wonder to us why it's the most desireable neighborhood in Philadelphia. If you're looking for Rittenhouse Square apartments for rent, you've come to the right place. Unlike many other sites you'll visit, the rental listings on this page are actually in this great neighborhood.
Featured Rittenhouse Square Apartment Rentals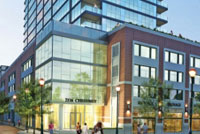 2116 Chestnut is the first new residential rental high-rise development built in this neighborhood in more than a decade. Taking advantage of the latest construction techniques, the building is more energy efficient and sustainable than its neighbors, as well as stylish, modern and cutting edge. Designed to provide as many residences as possible with stunning views of Philadelphia and the Schuylkill River, units feature floor-to-ceiling windows. With the most desirable amenities and conveniences, plus the latest finishes, 2116 Chestnut is the place to live in Philadelphia.

Experience the high life as you join the lifestyle of 1930, a premier apartment community in the heart of Rittenhouse Square. Luxuriate in the awe-inspiring views of the Philadelphia skyline from your floor to ceiling windows. Indulge in the finest restaurants and nightlife the city has to offer. Come home to pampered comfort. As you enter 1930, you will instantly be enveloped in the vibrant, yet sophisticated Art Deco elements Turchi Properties painstakingly restored when renovating the property. Sleek, modern and metropolitan, 1930 exudes a quiet glamour through its hushed, understated luxury and most modern of conveniences.

Modern, well located building within walking distance of the business district, the University of Pennsylvania and Amtrak 30th Street Station. This affordable elevator building features fully equiped kitchens, large floorplans and a landscaped courtyard. Studios and 1 bedrooms available.