Conshohocken Apartments
Information for Conshohocken Apartment Renters
The town of Consohocken provides is an excellent example of how a manufacturing center can reinvent itself in the 21st century. Located just fifteen miles from Center City Philadelphia, Consohocken was a major mill town, using lumber floated down the Schuykill River to make paper and other products. As industry slowly declined, the town fell into some disrepair before local residents and merchants undertook an ambitious restoration program on the prime waterfront real estate. Now Consohocken is a gorgeous residential destination with a number of attractive local businesses.
If you're interested in waterfront living at its finest, browse our Consohocken apartment rental listings and find the home of your dreams. From budget studios and one-bedroom apartments to expansive two and three-bedroom apartments stocked with luxury amenities, you'll find the perfect new home here. These Consohocken apartments for rent are convenient to Philadelphia via the R6 SEPTA train line and other nearby town via easy highway access, and our regularly updated listings come with photos, maps and all the information you need to make moving a breeze.
Featured Conshohocken PA Apartment Rentals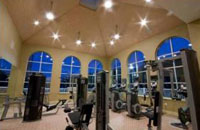 Forget everything you know about apartment… brilliant and bodacious, urban and posh… this is life at The Londonbury at Millennium. The Londonbury is sexy and swanky living in the heart of the fun nightlife and corporate centers of Conshohocken. Experience high-class apartment homes with scenic views of the Schuylkill River, just minutes from Center City, Philadelphia and the Main Line. A state-of-the-art fitness center, an elegantly appointed clubhouse, a fabulous resort-style pool, are just some of the amenities that elevates The Londonbury above other apartment communities. Indulge in high-end shopping in King of Prussia, or enjoy a drink with your mates at any of the pubs and restaurants in Conshohocken. Stop by the Clubhouse for a spot of tea, or a complimentary cup of Starbucks coffee… all here for you at The Londonbury.

The ultimate in suburban living! Ideally located in Montgomery County, North Lane Apartments in Conshohocken offers the privacy and amenities unequalled by any other community we offer a comfortable, inexpensive lifestyle. Enjoy our spacious, fully remodeled apartments with new kitchens, responsive maintenance and excellent customer service. Located in Plymouth Township, North Lane Apartments is less than 1 mile from the Blue Route, and just minutes from the PA Turnpike. Enjoy shopping at the nearby Metroplex Shopping Center and Plymouth Meeting Mall. We are also only a short drive from the King of Prussia Mall. In addition, North Lane Apartments is part of the highly desirable Colonial School District. 1, 2 and 3 bedroom apartments available.